Qualifications:
Must be ENERGY STAR certified.

HVAC system must be rated in the AHRI database.

Heat pump systems must be certified by AHRI as having the below minimum SEER2, EER2 and HSPF2 requirements: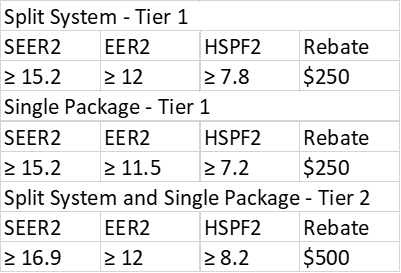 AHRI certificate must include all installed components, as stated on invoice. Values stated on AHRI certificate must meet minimum program qualifications. For example, a condenser may have an "up to 15 SEER" rating, but when matched with a compressor and furnace, the system may only reach 14.5 SEER as determined by AHRI. Ask your contractor for more details.

AHRI ratings for individual components of a system will not be considered valid.

Rebate available for conditioning of domestic living space only.